Manufacturer Crush definition: Having an extreme admiration for a manufacturer due to personality, lifestyle and overall "coolness".
Introducing a fun new segment called Manufacturer Crush Monday, where we take a quick look at a my "manufacturer crush" of choice, every other Monday and give you all a chance to win some sticks from my personal humidor!
My very first MCM goes to Nestor Miranda of Miami Cigar & Co., someone who alongside his beautiful wife Mariana, had a vision and brought it to life.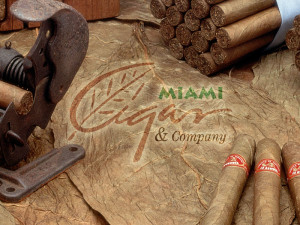 The Miranda's are originally from Holguin Cuba, where Nestor says he started his love affair with cigars at age 17. In a past interview with Cigar Aficionado magazine, Nestor stated "I used to steal cigars from my dad. On Sunday, I'd go to the park and light a cigar and look like a big man. Everyone would look at me and say, ''Look at that guy with a cigar.'' It was like a lonsdale maduro—Regalias el Cuño. They used to make cigarettes. I always liked cigars. Always. My father smoked cigars, my grandfather smoked cigars. Actually, my grandfather used to carry 10 cigars in the pocket of his guayabera."
In 1989 he and Mariana started Miami Cigar & Co, which like most small businesses, had humble beginnings. Nestor used to sell cigars from the trunk of his car to friends and local businesses. Now their empire has grown into annual sales in the millions with a 28 thousand square food humidor in Miami, Florida.
Miami Cigar & Company has their own cigar lines including Don Lino, Añoranzas, Casa Miranda, Nestor Miranda Collection and Tatiana. They also distribute La Aurora Cigars and Viva Republica. For more information on their cigars and where to find them visit their Miami Cigar website
Join me in sharing the love for Nestor and post your best Miami Cigar & Co picture on social media today!  I will select a winner to receive cigars from my personal humidor.
Must follow and tag @cigarvixen and @miamicigar on Twitter and Instagram to play and/or Delicia Silva and Miami Cigar & Company on Facebook. Happy Monday and check out the video below!