How would you like to wake up to a beautiful view every morning, drink fresh local coffee, eat gourmet breakfast and smoke your choice of premium cigars? How about sunbathe in the warm Esteli sun while sipping an ice cold beer or rich rum and smoke your cigar without a care in the world? Enjoy visits to Drew Estate Factory and stay at their safari hotel built in to their astonishing compound. Create your own blend of cigars at Joya de Nicaragua factory nearby. Learn the history and see first hand what makes Padron cigars taste so incredible every time you smoke them at a visit to their factory. Get a chance to visit one of the only cigar factories in Granada as we spend some time with Mombacho cigars just before heading out to relax at the incredible beaches imaginable. Explore all that Nicaragua has to offer with visits to Managua, Esteli, Granada and Playa Santana.
This trip could be yours for free by entering our raffle. Contest will run between April 15th -August 15th. First place winner will receive all expensed trip to Nicaragua Cigar and Beach Safari Nov.9th -15th, including airfare (up to $500), 2nd place winner will receive a bottle of Flor de Caña 12 year rum and 3 cigars, 3rd place will receive a bottle of Flor de Caña 4 year rum and a Cigar Vixen poster. Raffle tickets are $25 and non- refundable, may be purchased online here or in person at any Cigar Vixen or Nica Travel events. Winner will be drawn and announced on video and released August 15th. Winners will also be notified via email. Don't miss this trip of a lifetime!
Itinerary

Day 1:
Arrive to Managua (MGA) enjoy a fresh and delicious lunch, drink a cold beer or sip on some Flor de Caña Rum while you enjoy your first Nicaraguan cigar.  Depart for Esteli located in the northern region of Nicaragua. As we drive through the mountains and pass by the green valleys you will see all the beauty of Nicaragua's countryside. Once we arrive at Drew Estates you will have the evening to network and bond over cigars, scotch, and rum while we prepare an amazing welcome dinner for you.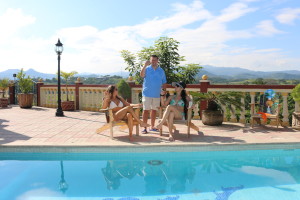 Day 2:
Awake to coffee and breakfast at Drew Estates and then visit the nearby tobacco plantation. Afterwards take a private tour of the Joya de Nicaragua Factory and Padrón Cigars before heading back to our  Drew Estates Factory Lounge for dinner.
Day 3: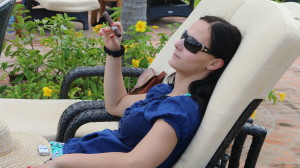 After breakfast at the Drew Estate Factory take a tour behind the scenes of the pre-production facilities. Next tour the Drew Estates Factory and learn about all the labels they roll. Then put your knowledge to the test by blending your own cigars. Before dinner at Drew Estates, visit Subculture Studios, the local art gallery then enjoy the evening amongst friends.
Day 4:
Enjoy your final breakfast at Drew Estates, and say goodbye to Esteli. We will head to the Oldest Colonial Cities in the Americas; Granada was founded in 1524 by Francisco Hernández de Córdoba, ostensibly the first European city in mainland America. Here you'll meet Mombacho Cigars, at Casa Favilli, who came here to create the world's most memorable boutique cigars. Here we will enjoy a relaxing time while relaxing at the Casa Favilli Cigar Lounge. We will have lunch a local restaurant before relaxing at a charming hotel. Tonight we prepared to enjoy a life out in the city at the famous "Calle La Calzada" sipping on a Flor de Caña, smoking your favorite Nicaraguan cigar as the sun sets over the horizon.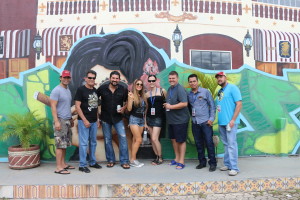 Day 5:
Wake up in Granada, grab a Nicaraguan breakfast and depart to our beach house in Rancho Santana. Take a dip in the infinity pool with views of Playa Santana and the crashing waves below or a quick stroll down to the club house to shoot some pool or read a book in the comfy den. Today we will do a Flor De Caña Rum and Cigar pairing all selected by Cigar Vixen.  Lunch and dinner are also served at the house on the patio. Watch the sun set and light up the sky with colors as you float on your back in the pool into the evening hours.
Day 6:
Breakfast will be served early so we can explore some of the nearby beaches. Rise to the top of a rocky cliff in a 3 story restaurant & bar with an endless view of the sea. After lunch we will head south to the small quiet fishing village of Gigante to watch the sunset. Once the sun sets we head out to celebrate your final good bye dinner.
Breakfast will be served early so we can depart for the airport. If you have an afternoon departure, we may have time to stop by a local market for souvenirs. Then its time to head home with memories that will last a lifetime. We hope to see you again soon.
Official Rules:
Entries will be sold online at https://itaglobal.rezdy.com/41502/raffle-ticket-win-a-trip-to-nicaragua or in person at Cigar Vixen or Nica Travel events. Must be at least 21 years of age to enter and win. Winners will be given 24 hours to respond to prize, if no response is made, 2nd prize will receive the 1st prize. Winners are selected at a random. Entries may be transferred if winner is not able to attend trip but must be used for Cigar Vixen trip Nov 2015. A cash prize will NOT be offered in leu of trip.  All entries must be received by August 14, 2015. No entry tickets will be sent to purchasers however entries will receive a confirmation email. There is no limit to number of entries a person may purchase. If fewer than 150 raffle entries are not sold, a full refund will be issued to any one who purchased an entry into the raffle. Any additional proceeds will be donated to a local Nicaraguan school. By participating in this raffle, participants agree to be bound to these official rules. Void where prohibited by law.