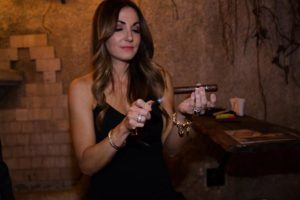 Recently I had the pleasure of visiting beautiful Guatemala.
During a one of a kind luxury cigar & spirit pairing event, hosted by Guatamala's most prominent cigar distributor Jaime Kong, I was given the opportunity to discuss unique pairings with fellow cigar smokers alike. It was also an opportunity to do what I love best, smoke, drink and talk cigars! Among attendees was special guest Claudio Sgroi, Master Blender and co-owner of Mombacho Cigars to discuss one of the
featured cigars that evening; the Liga Maestro.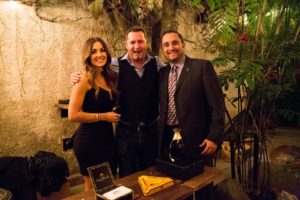 Before the event itself I was invited to the pre-party drinking and cigar smoking group of soon to be friends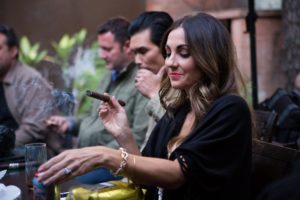 nearby at one of Guatemala's best sandwich cafes around. The group sure did know the way to my heart as they offered me a warm up round of Zacapa Rum which I paired with an AJ Fernandez New World.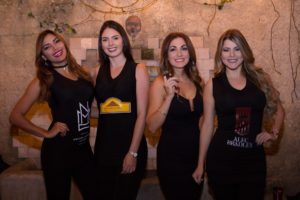 Jaime Kong spared no expense in hosting this fine event. The location was not only pristine, but as I lookedaround, I realized that I could not think of any other place I have been too that had an ambiance such as this beautiful restaurant and patio where we would be dancing in our billows of cigar smoke for the evening. As if location wasn't enough, Jaime arranged three lovely cigar models, garbed in custom made cigar brand dresses to hand out cigars and smiles to every guest upon arrival.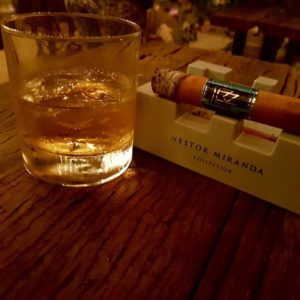 We began the evening on the lighter fare with a Nestor Miranda Connecticut cigar paired with Chivas 12 whisky. I spoke to our guests about the blend of the cigar which features an Ecuadorian Connecticut wrapper over a Nicaraguan binder and Dominican, Honduran and Nicaraguan filler. The notes of the cigar which include cedar, hay, raisin and maple and why it pairs well with the clean characteristics of the Chivas 12 blend of dry raisin, wood spice, ripe apple and honey.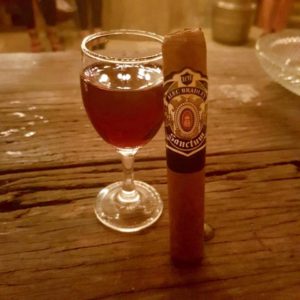 After finishing our whisky and NMC cigar, we moved on to the second  pairing of the evening; Alec Bradley Sanctum and a 10 year old Tawny Port. This time Jaime took the lead in describing the Sanctum and the delicious port he choose as it's perfect partner. This was a big hit, the tawny port did an excellent job bringing forth the nutty, caramel notes in the Sanctum, that when smoked alone are sometimes overlooked.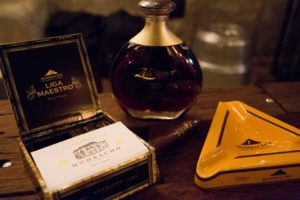 The last, but probably most anticipated pairing of the night was the Mombacho's Liga Maestro cigar and Ron Zacapa's XO.  Claudio Sgroi gave a humble, yet classy greeting to the crowd just before turning things back to yours truly to describe these incredible pairing notes of the Liga Maestro and Zacapa XO. The Liga which is a Nicaraguan puro, shares its fuller robust body of cedar, floral, earthy notes and hints of pepper with a gorgeous underlying sweetness. When enjoyed together with the specially aged Zacapa XO, the two bring out a caramel, nutty and leathery element to the afore mentioned robust earthiness and balanced spice. A perfect match!
Needless to say the evening was a big hit. I would have to say that my favorite part was sitting with my new friends and talking cigars while enjoying all the delectable tastes that evening had to offer.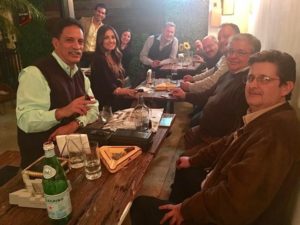 As with many of my excursions, this trip came to close in what seemed like a blink of the eye. Luckily I was able to capture some incredible memories as well as the beautiful scenery to share on Season 2 of The Cigar Vixen Show on Amazon Prime and Vimeo coming soon.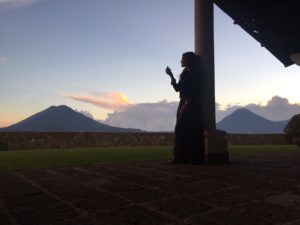 If you are looking to get to know the cigar world in Guatemala please contact my good friend and cigar connoisseur Jaime Kong on Facebook under Alec Bradley Cigars Guatemala or Tatiana Flavored Cigars Guatemala. Jaime Kong is the exclusive distributor in Guatemala for Alec Bradley Cigars, Nestor Miranda Cigars, Mombacho Cigars and 1502 Cigars. He often hosts luxurious cigar pairing events in Guatemala, be on the look out for the next event! Thank you Jaime for an incredible cigar experience.