In the exciting world of cigars, much of the fun springs from gatherings and events. A recent event I attended was at one of my favorite restaurants- TAPS in Corona. Aside from being a cigar friendly restaurant; which in itself is a rare gem, TAPS has a delectable menu, brewery and amazing staff.
The cigar & scotch dinner is at it 6th so far and was created by General Manager Masaya Yamazaki, who is a fellow cigar enthusiast as well as a foodie. Upon entering the romantically lit patio, the acoustic and lyrical sounds of Joe Blanchard flowed in the air amongst the friendly crowd of cigar lovers which laid the welcome mat .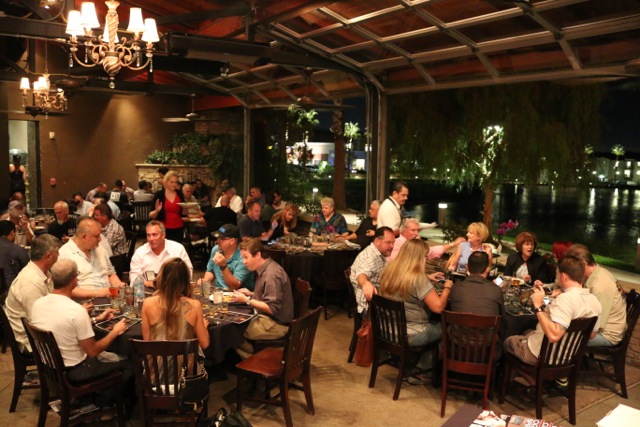 Seating was cleverly assigned according to reservation. As I took my seat I was pleasantly greeted by two familiar names; Ashton VSG and Don Pepin Original. Both cigars were strategically placed alongside that evening's menu and three tasting glasses labeled and half full of Johnnie Walker Double Black, Gold and Platinum.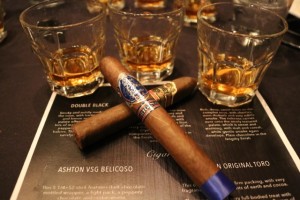 After getting acquainted, I learned my table group was a pleasant mix of sociable scotch and beer drinkers, and we found instant camaraderie through our mutual love of cigars.
I began with the Ashton VSG which I found went well with the double black, and was a nice appetizer for the amazing meal I was about to receive.
Dinner was prepared by the talented Chef Andrew Monterrosa who fixed a smokey Southern infused dish consisting of: Pink Pepperedcorn Crusted Pork-loin, Cedar Scented Black Eyed Peas, Braised Mustard Greens with Bacon Jelly and Pop Corn Shoots.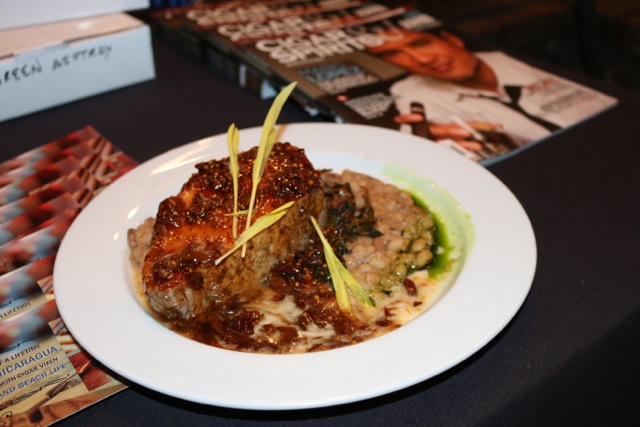 Needless to say the food was absolutely delicious and a perfect choice with the Ashton VSG, Don Pepin and Johnny Walker.
All in all the evening was a real treat. I am looking forward to the next time I can attend this cigar dinner. Next event will be November 13th, check their website (www.tapsfishhouse.com) for details. If you're ever looking for a great place to dine, drink, and smoke TAPS has a cigar friendly patio that will suit any cigar lovers needs.