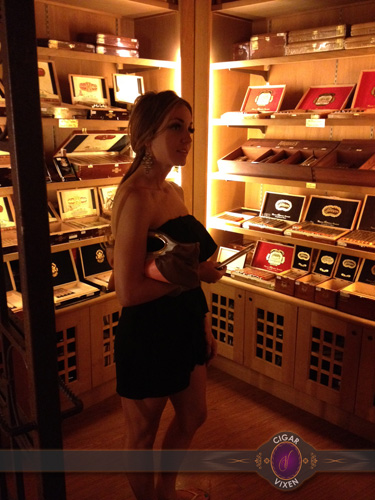 This our reveiw of the cigar shop Casa Fuente in Las Vegas, you might be surprised with the selecion and price.
Casa Fuente
3500 S. Las Vegas Blvd #S08
Las Vegas, NV 89109
702-731-5051
10am-11pm Sunday-Thursday
10am-12am Friday and Saturday
Owner- Michael Frye
Casa Fuente is a true cigar heaven and anyone who visits Las Vegas must stop in and indulge. A very inviting and friendly staff makes it a nice relaxing spot to take a break from the fast-paced Vegas strip. Their great selection of fine Fuente cigars is kept in their gorgeous rustic humidor.
You have to try their exclusive Casa Fuente label cigars, made only for their shop. The price point is a little on the higher end, however the atmosphere and quality cigars is well worth it. You can enjoy any adult beverage from their full inside bar, or sit out in front of the shop with an espresso and enjoy the scenery.
Casa Fuente sees many different visitors from all over the world; the most recent included Aborigines all the way from Australia. A fine example of the distinguished reputation Casa Fuente upholds. Of course being in Vegas, they have their fair share of celebrities and athletes that pass through the shop as well, including the Fuente family! Just last month Carlos Fuente was their hosting a cigar sampling event. I wish I could have been there for that!
While i was their, I sampled two from their collection. A Fuente Lancero, which is in limited supply since there is only have one roller who makes the Lanceros. I happen to really enjoy that size, it's a steady draw, and consistent flavor. I would compare the Fuente Lancero to the Arturo Sandoval song, Après de Rêve because of the melodic relaxation and smooth feeling it brings.
I also sampled a Fuente Forbidden X chile pepper. WHEW!!! A very spicy, bold blend with a beautiful construction. Definitely something to smoke on occasion when you need a strong buzz! It was a little too much for me personally, but i can appreciate the great flavor. Iron Butterfly's In a Gadda da Vida comes to mind for this strong stick.
What's your favorite Fuente??