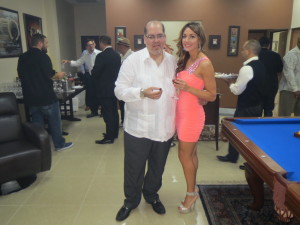 This past Saturday, April the 11th, Falto Cigars celebrated it's 20th Anniversary making cigars. Raise your cigars and glasses and join me in a special toast to a good friend and wonderful cigar maker, Luis Falto. Luis started his company twenty years ago in 1995 when he was only twenty years of age. He started working the fields and learning all the ins and outs of tobacco so that he could create a quality cigar for his fellow cigar lovers. Falto cigars are unique in the sense that each blend is specific to its own Vitola. Including one of his favorite cigars, the Mentor - which was created to pay homage to his very dear friend, and mentor, Manuel Inoa of La Aurora cigars. All Falto cigars are handmade at La Aurora cigar factory, the oldest cigar factory in the Dominican Republic. You will find that aside from great flavor, the consistency and quality is second to none.
Luis is one of the most humble, generous and respectable people I have had the pleasure of knowing in this industry. I am privileged to call him a friend and I encourage all of you to try out any of his handcrafted cigars.
Below please enjoy my review of the Falto Dos Banderas cigar. Dos Banderas features a Dominican Corojo wrapper, Brazilian binder with Dominican and Cameroon filler handmade at La Aurora cigar factory. Flavors of cocoa with hints of coffee mixed in with citrus notes, predominantly earthy and medium strength and body. Visit http://www.lagaritacigar.com for a list of Falto retailers.