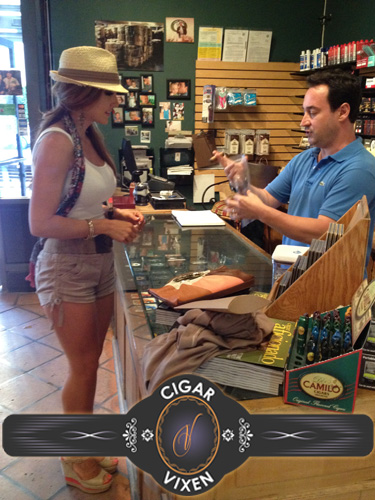 Lone Wolf Cigar Shop
223 B Broadway
Santa Monica, CA.
800-577-Wolf or 800-577-9653
Website: lonewolfcigars.com
Owner - David Weiss
Top selling cigars = Lone Wolf, Davidoff and Padron
Exclusive brand = Lone Wolf Lobo Rojo and Lobo Fuerte
100s of Top Brand Cigars
Humidor Temperature and Humidity 70/70
Top restaurant recommendation close to shop = Boa, a steakhouse with a delicious menu and a lovely special Sunday treat of half price bottles of wine!
The Lone Wolf is a Wholesale and Retail cigar company founded in 1996 by actors Chuck Norris and James Bellushi. David Weiss managed all retail operations at the start of Lone Wolf and acquired the company a short four years later, reengineering their brand into what it is today, a beautiful blend of excellent quality tobacco.
With their original retail shop in Santa Monica the Lone Wolf brand is also distributed globally through their sister site DWcigars.com where you can chose from a top assortment of fine cigars.
They host events at outside restaurants and hotels. As a client, you can request invites to these exclusive events via email. Lone Wolf offers a VIP messengering concierge to movie sets and hotels in CA. They carry a wide array of top lighters, cutters, pipes and tobacco as well as gorgeous humidors. They even carry cuff links in case you are shopping for a gift or perhaps just running late to the office.
David is the shop owner. He is knowledgeable, approachable and helpful… definitely a connoisseur. First of all, he was happy to be working on a lovely Sunday afternoon and even stayed late to talk and teach me some very useful tips to smoking and selecting a great cigar! David selected his own brand called the Lone Wolf Lobo Rojo lancero for me. He greets each guest as a member of his family creating a welcoming and very warm environment. Great upscale shop with cozy environment.
David took time to teach me a new way to cut and light cigars, using cutter as a steady guide to produce a straight cut. Roast the foot of cigar first then light, puff to get it going. This helps it from over heating and producing a bad flavor.
Although not recommended, sometimes there are instances when you cannot finish an entire cigar in one sitting. Before relighting a cigar that has been out more that an hour, cut end of cigar and blow smoke outward before relighting.
When selecting a fine cigar, you should smell the open end first for flavor, lightly pinch cigar top to bottom to ensure quality and consistent packing, examine outer wrapper for too much vein, spots or discoloring.
David gave an amazing "how to" on how he selects cigars to carry at his shop. He fully inspects each cigar inside and out by smelling, pinching and cutting open to ensure quality filler size, binder and wrapper. You can be sure if you purchase a cigar from Lone Wolf it is top quality as this is a true cigar enthusiast and strives to see all his clients leave with a smile, over trying to make a buck!
Surrounded by fine dining and over 500 shops to choose from, Lone Wolf is the perfect choice for anyone looking to indulge in a fine cigar, gain knowledge and make a friend along the way!
What is your experience?