Join Cigar & Spirits Magazine for a dinner with Carl Nolet Jr.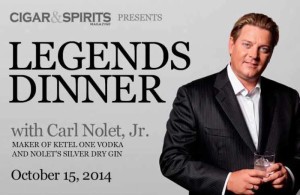 The Nolet family is best know for their Distillery in Schiedam, located just outside of Amsterdam in Holland.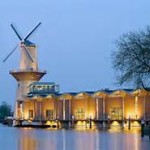 Their legacy began in 1691 with Joannes Nolet and has since been passed down father to son through today. In the beginning, the Nolets made a variety of spirits, but after World War 2, they began to focus on a small number of high-end, top quality spirits mainly for their Dutch market.
In 1983, Carolus Nolet Sr., 10th generation of the Nolet family, created the Ketel One recipe. Shortly following, he founded Nolet Spirits U.S.A. and brought their unique and exquisite Ketel One Vodka to the U.S..
Ketel One Vodka gets its name from the original copper pot still, "Distilleerketel #1". It's unique and smooth flavor derives from  using 100% wheat which is then distilled in copper pot stills and filtered over loose charcoal. No added sugar or glycerin are added to their recipe. The result is pure quality vodka great for sipping neat, on the rocks, or perhaps mixed with a little soda.
Carl Nolet Jr. moved to the U.S. in 1990 to help educate bartenders about their unique product. He has since continued to enlighten and spread Ketel One Vodka across the map. Including the introduction of Ketel One Citroen and Ketel One Oranje which naturally are in line with the family's 300 year tradition of quality.
Even older than their Ketel One vodka comes the tradition of gin, or Jenever. The Nolet family produces Nolet's Silver Dry Gin and Nolet's Reserve; both with their prestigious family legacy behind the craftsmanship and quality of their gin.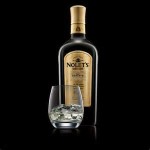 Don't miss your chance to indulge in this legendary evening with spirits icon Carl Nolet Jr. and enjoy  a four-course filet mignon dinner, drinks and a smoke! Get your tickets through Cigar & Spirits magazine here.