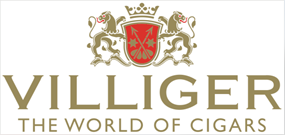 THE NEW VILLIGER 1888 TO SHIP TO STORES NATIONALLY
Villiger North America President Rene Castañeda to host Villiger 1888 Launch party at Miura Cigars in Miami


(Miami, Florida) December 12, 2016— Villiger Cigars is set to ship the new Villiger 1888 today Monday, December 12, 2016 Nationally to cigar shops in the U.S. The blend made a" sneak peek" appearance at the 2016 IPCPR in Las Vegas and made a splash at InterTabac 2016 in Dortmund, Germany. A special launch event is scheduled at Miura Cigars' annual Holiday party in Miami.
The Villiger 1888 blend is a complex and elegant cigar that was part of a 2010 limited edition production, which celebrated Villiger's 100 year anniversary in Germany. Made in the Dominican Republic, the 1888 features an Ecuadorian wrapper, Mexican binder, Dominican and Nicaraguan fillers. One can expect Dried fruit, roasted coffee and caramel notes, fortified with a peppery and floral finish. The line will be expressed in five vitolas.
Corona (6x43) MSRP: $5.70
Robusto (4 7/8x50) MSRP: $5.95
Toro (6x50) MSRP: $6.25
Torpedo (6x52) MSRP: $7.10
Toro Gordo (6x60) MSRP: $8.20
The Villiger 1888 Launch party at Miura Cigars annual Holiday party will take place on Friday December 16, 2016 at 6:00 PM under a tented structure, and will feature the 1888 and other Villiger brands. Guests will enjoy rum cocktails courtesy of Zafra Rum, food, and music. Miura Cigar is located at 2555 NW 102nd Ave, Doral, FL 33172.
Rene Castañeda stated, "Villiger Cigars has undergone major positive changes in 2016 to include a new distribution center, new personnel and a new business philosophy. We look forward to ending the year on a high note with the release of the Villiger 1888 and we look forward to a prosperous 2017. We thank our supporters, colleagues, and customers for all the support in this past year."
CHECK OUT THE REVIEW HERE:
ABOUT VILLIGER SONS LIMITED AND VILLIGER NORTH AMERICA:
Villiger Sons Limited was established in 1888 by Jean Villiger in the small town of Pfeffikon, Switzerland, where Villiger remains headquartered to this day. The company manufactures and sells more than 1.5 billion cigars annually, world-wide. Today, under the leadership of Heinrich Villiger, the company prides itself in its commitment to quality, in all their products made in many countries around the globe.
Villiger North America was established to service the premium cigar enthusiast primarily in the United States. With production from some of the most respected manufacturers in Dominican Republic, Central America and elsewhere, it is the goal of the company, to introduce the finest smoking experience a premium handmade cigar has to offer. Today, and in the future, one can rest assured that when they choose a Villiger cigar, the quality of the leaf, the manufacturing, and even the packaging will be second to none.
Follow the NEW Villager Cigars North America on social @VilligerCigarsNorthAmerica #TheOriginalClassic